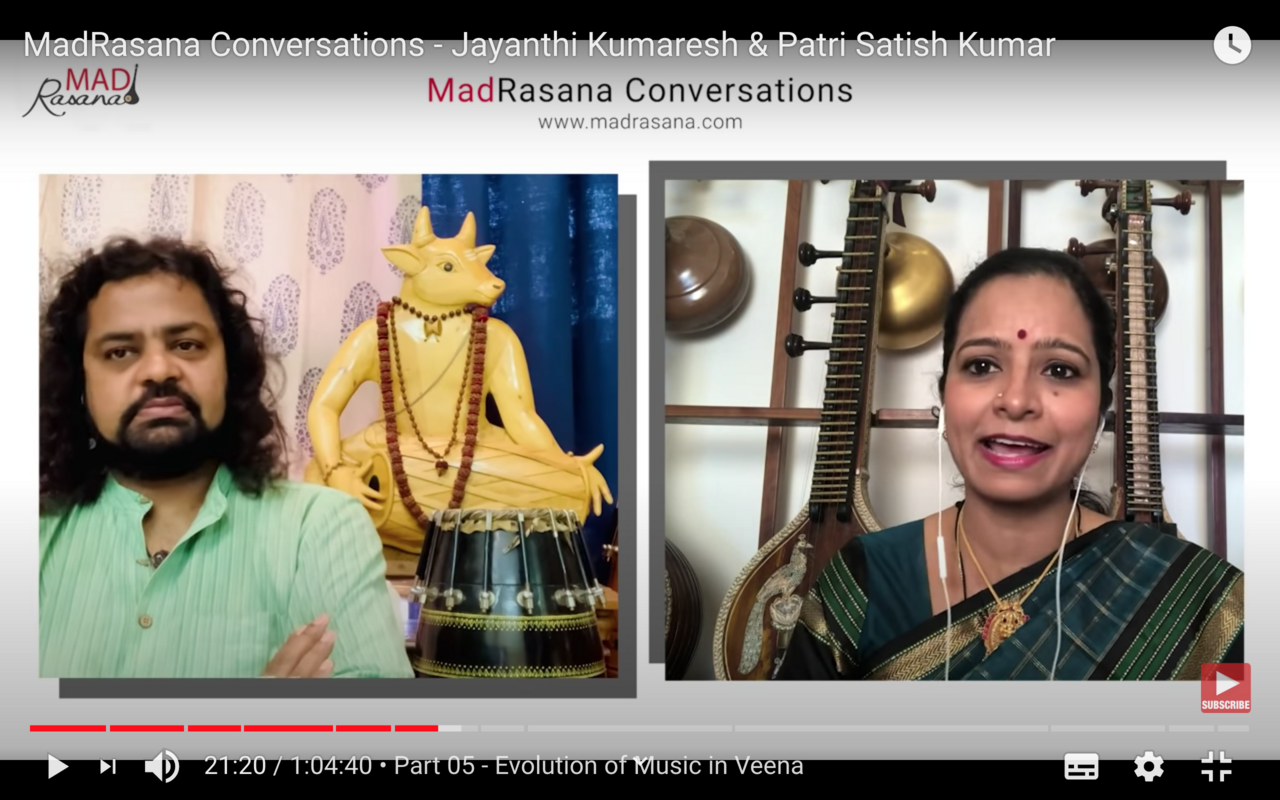 Those like me who have been following MadRasana on Youtube would have noticed innovativeness in their presentations as well as programming in bite-sized videos. They have taken this to the next level during the lockdown with videos of hour-long conversations between two artistes matched to reflect a lot more than what they might do on the concert stage.
The best in my opinion so far is this spectacular conversation between Veena Jayanthi Kumaresh and Mridangam Nandi Patri Satish Kumar:
https://youtu.be/hvu2YmADb2s
Two very good instrumentalists, the leading exponents among current stars, and great conversationalists. Both exude here a calm and confident maturity, humility, and dedication to their art and their tradition. In their sawaal jawab, they give one word answers to indicate what comes to mind when great doyens of intsrumental music are named. That section in itself is worth watching.
They talk about memorable events in their lives from ages 0-15, 15-30, and 30-50 years. Incidentally Patri just turned 50.
Patri recounts how some years ago, when he had already scaled great heights, he went to pay his respects to his guru in Vizayanagaram. The guru was teaching, and invited him to a class session! Patri says that his guru's rule for the class had always been that the student should NOT repeat what the guru plays. So the session was most challenging and sudden. But at the end of the session, the guru went and brought a shawl and honoured Patri there and then - he says this is the most signifcant honour he cherishes.
Jayanthi recounts how at 18, she was in the audience in Kalakshetra with Veena S. Balchander on the stage, with her guru Padmavathi accompanying him. Padmavathi considers SB as her manasika guru. The who's who of music were in the first two rows.
Suddenly, SB beckoned to Jayanthi to come on to the stage. She went thinking happily that she would be asked to fetch a cup of Horlicks or something. But SB asked, " Padmavathy, with your kind permission, I would like this girl to take your place on the stage. She is not my student, but if you allow it, let her play with me." Jayanthi was totally awed by the moment, what with SB, the audience, and her guru's veena being a big one and the occasion immense. Her guru was very gracious and said OK. Jayanthi sat down totally blank. SB took up Todi. Jayanthi doesn't remember much. But in the end, SB announced, " Padmavathy, if you kindly accept the idea, I would like to announce that Jayanthi is my student." What a moment.
Talking about the mridangam, and his attitude to accompaniment, Patri says many wonderful things that show his stature. There is a documentary put up by his students on YT which is definitely worth a watch.
The icing is that the editing is done by Abhishek Raghuram. To top it all they play a short Behag piece composed by him.
A must watch, congrats to Mahesh, Abhishek, Jayanthi, and most of all Patri!
Post edit: I have been informed that the video was edited by Mahesh. Abhishek has composed the Behag piece chosen and played by Jayanthi and Patri.