Dear rasikas,
After I read Rshankar's eloquent translation of the Surutti Varnam of Sri.Ravikiran aptly presented by Smt.Leela Samson's troupe, I also read some other threads here impinging on the theme about Sāhityam etc.
I just checked and found that the Samskrita dictionary states that Sāhityam is the lyric and literature, the other dimension of aesthetics, music being one. Kalidasa in his Shyamaladandakam amply builds on the mutuality and closeness of the two dimensions manifested from Devi and equally, the two being means of Her worship.
Most importantly, lyrics and literature stem from association of ideas and contexts (that is the etymology). In a way all expression comes from thought associations. That is the unique gift of language to man.
The well-known Subhashita says that a man bereft of musical and literary sensibilities is but a beast without a tail.
These ideas are stated in Apte here: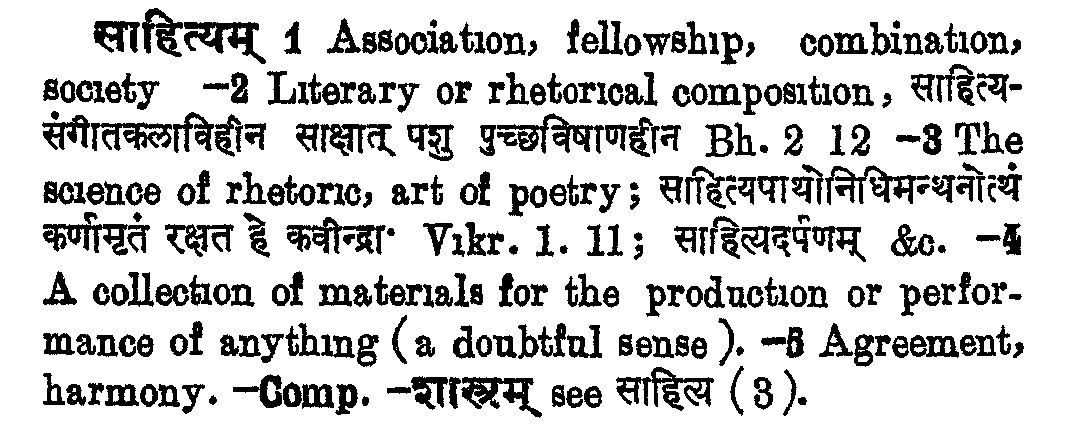 Then I was curious to research the Vikramankacharita referred therein. Turns out it is a panegyric composed in the 11th century by Kavi Bilhana of Kashmir. The referred verses are copied here from Google Books:

My free translation:
Blessed are they who sing thy praises (oh king!) in music (the fifth veda?) and word adornments (Sāhitya),
For Goddess Sarasvati always shines on their tongues, as if She is playing a melodious veena (in accompaniment?).
Oh poets supreme, guard the riches you have churned from the ocean of nectarine
Sāhitya
As literary plagiarists are actively trying to thieve these poetic lines just as the demons were trying to steal the Amrita churned from the ocean!