Hello everyone, I am Mahesh, the son of Sri M.K. Ramasubramanian (Ramesh, MKR or KMR to most of you on rasikas.org). As the rasikas.org community has become an important part of my father's life, I thought I would take the liberty of sharing an important milestone with all of you.
Today, May 3rd, marks the 50th wedding anniversary of my parents - Ramesh and Nirmala were married on this day in 1964 in my mother's hometown of Coimbatore. We marked this special occasion here in New York today with a small archana at the Queens temple and followed up with a dinner for close friends and relatives in the area. I am sure that many of you will join me and my younger sister in wishing my parents many more decades of happy married life together. One of the most 'binding' effects in my parents' marriage has been the love of music which has been a constant nearly every day of their married life together.
When my sister and I were putting together a remembrance slide show presentation, we looked again at some of the old black and white photos from the wedding and in the process I found some gems that are relevant to the music aficionados here: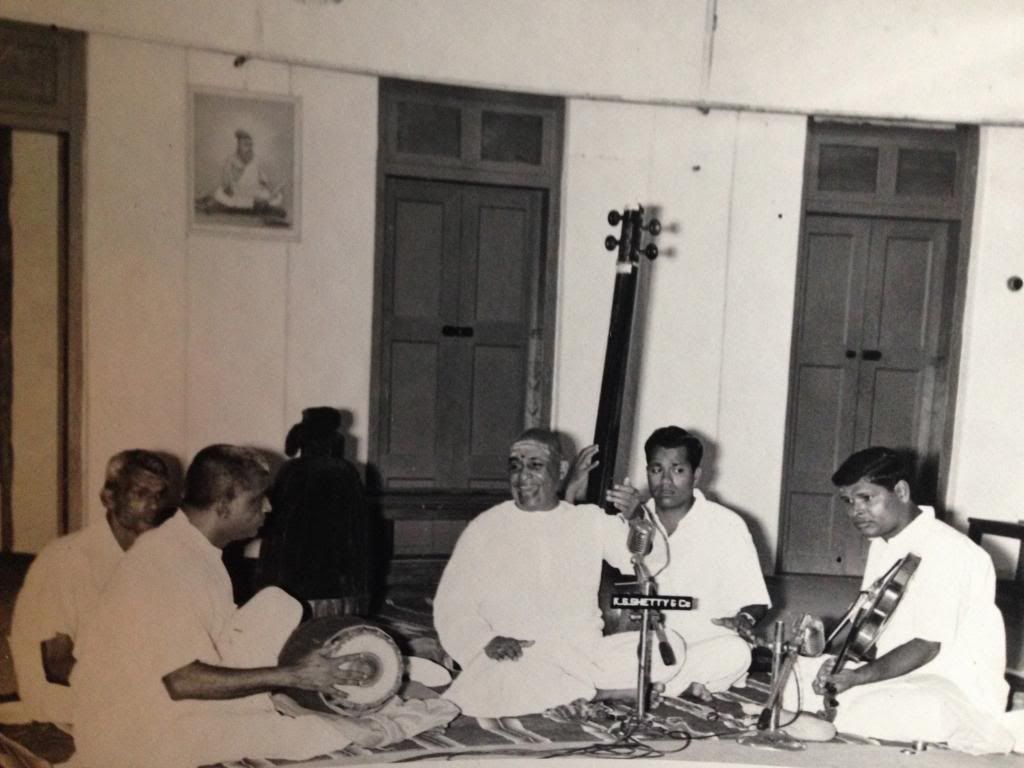 The kalyana kutcheri - Semmangudi Mama, Kovai B.Dakshinamurthy and Palghat Mani Iyer
Sorry this one is a bit blurry - In the foreground center is my father, and to his left, is my grandfather, late Sri K.S. Mahadevan
Directly behind KSM, sits Sri Sadasivam Mama (bespectacled) with Radha Mami behind him (partially obscured); Special credit and points to anyone who can identify the child smiling in front of both Sadasivam Mama and Radha Mami

BTW, M.S. Mami could not attend the wedding as she was recovering from a major surgery and could not travel to CBE;
T. Rukmini singing the oonjal paatu to my parents (she sang Aparadhi Nanalla, the javali in Peelu)
Radha Mami also sang Upamugana in Yadukula Kambhodhi at the oonjal, but I could not find any photos of that moment ):
One of my favorite photos - Smt MLV in the center, to her right Mrs. Vasan, and to Mrs. Vasan's right, T. Rukmini enjoying the wedding repast :-BD
Finally, a photo of the 'newlyweds' taken today here in New York:
Hope you all enjoy these wonderful pieces of nostalgia as much as I did in 're-discovering' them! If I find any other great old photos, I will post.
Cienu Anna, please share these photos and the milestone with your mother. She was (and is) so much a part of that happy day and many others after this in my parents' lives.