Posts: 2047
Joined: 31 Jan 2017, 20:20
x 59
x 60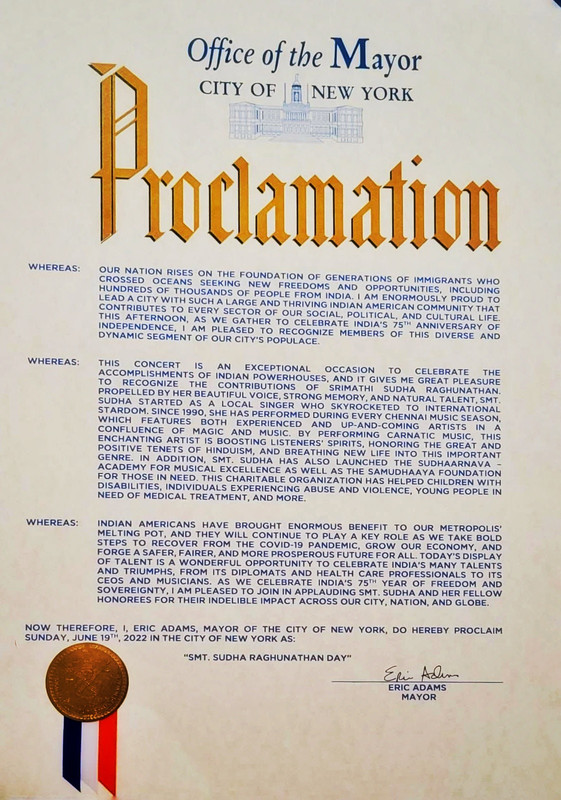 Just received from my good friend CPBlog
Congrats to the Vidushi for another feather in her crown!
---
Posts: 16620
Joined: 22 Jun 2006, 09:30
x 665
x 78
Sachi,
Good to hear from you and that too with such good tidings! Congratulations to Smt. Sudha Raghunathan for such an honor being bestowed upon her. As a long time resident of New York state in the past, I am happy that the city is celebrating India, its history, culture and also the immigrants from the old land. It's honoring her too. I am doubly happy that on Sudha's very first tour of the US, she sang in NY State before she traveled to other parts of the country. What a joy it was to hear a very talented young singer like her for us folks who hadn't heard concerts in a long while!
Here was someone with a beautiful voice and verve--looking beautiful too. What I still remember is the gesture of her husband who wasn't with her, but had specially sent her flowers from India to wish her a grand tour! Touching gesture

I am saying this because with all the talent that she had, it would not have been easy for her to reach the heights she has now, without an unfailing and loving support system.
Wishing her and hers, many more such happy moments

---
Posts: 2047
Joined: 31 Jan 2017, 20:20
x 59
x 60
Arasi, well said!

Being under a famous, glamorous, daring musician guru and having almost everything going well for you (blessed as a child by Sri Satya Sai Baba)can skew the mind and prevent true achievement of one's potential. Not in her case, though! She has also engaged her audiences in many creative ways during the lockdown.
---