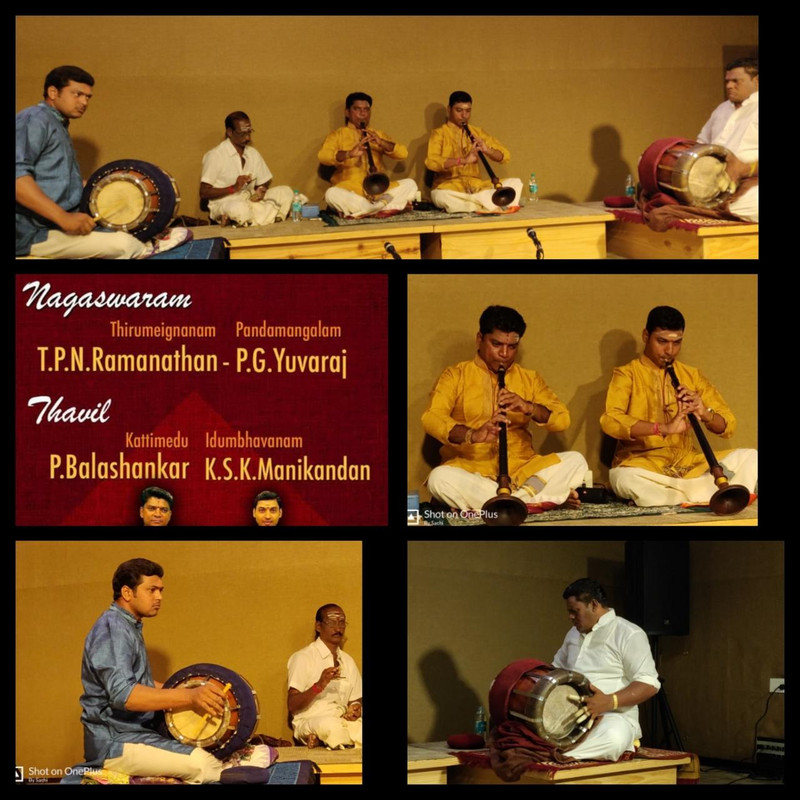 Congratulations to Lalitharam and Parivadini for debuting in Bengaluru with a stellar Nagaswaram concert. It was held in the Shaale studio.
When I went to the venue, my enthusiasm was a bit tempered. As Wodehouse said, my feelings were a bit like letting "I dare not" wait upon "I would". My fears were based on my acquaintance with Nagaswaram music in temples.
Would the music be too loud?
Would the alapanas and swaras go on interminably?
Would they be playing a type of Carnatic music very different from the kutcheries I have attended and enjoyed?
All my fears were magnificently squashed in the first one minute. As they began a rare varnam, what I heard was a very pure tonality i haven't associated with Nagaswaram thus far. The music wasn't loud. And the main artiste was playing such a sonorous, gamaka-filled, laya-precise, engaging, type of music, that it was an eye- and ear-opener. More so, mind-opener.
So once more, congrats to L & P.
The song list:
Varnam - Raga Indhirai
Gam Ganapathe - Hamsadhwani
Akhilandeswari- Dwajavanti
Kediliyan - Kalyani
Sarasa Sama - kapi narayani
Elara- kamboji
Gunijanadi - gurjari
Rtp - keeravani, Tisra triputa
Thani
Mira bhajan - yaman
Muruganin - film song played by ramanathan 's father
Tillana - desh
Tiruppugazh - hamsanandi
Madhyamavati
The first song in Indhirai was a varnam composed by Sri. Ramanathan's father. It was very nice.
The Hamsadhwani song was rendered with great verve. The raga shines when a musician hits pure notes. This was the case.
The Akhilandeshwari was fabulous. Even a big name vocalist wouldn't easily create such a mood. What a song indeed.
There was then a really beautiful Kalyani. It was a pure classic. The composition is by one Nagaswara maha vidwan. Anyone could mistake it for a rare Thyagaraja song.
Sarasa Sama Dana had a different flavour from the MMI school, but sounded good.
Kambhoji was launched magnificently. The very opening was in top Sa. The song that followed was a haunting Thyagaraja song. Elara, addressed to Krishna. May be in the interest of time, no niraval or swaras were offered.
I couldn't fathom the Gurjari song.
Kiravani RTP was the main piece. Big raga build-up. Long straight notes. Two nagaswarams engaging in tonal play to showcase the raga. They covered two and half octaves. Touched the Mandra Sa.
I can say I haven't heard this quality of nagaswaram sound ever. May be I am ignorant. But if they can play like this, hats off.
The tavils were brilliant. They had two different timbres and playing styles. The younger player on the left played a lot of gumkis. Great embellishments of sangatis.
I request Gardhaba_gana and Lalitharam to add their erudite comments
Finally, let me say you're lucky. You can catch The entire concert here! Click the pic. (it will take you to the Youtube archive of the concert which was livestreamed)