Welcome to a delightful session with Vidushi ARUNA Sairam. She is doing the session in Bombay with a very interested Hindustani audience, organised by Pandit Arvind Parikh. (Held on 20 Sep. 2019).
Whenever I see a very successful Carnatic communicator, my interest is aroused. I want to understand their musical development and attitudes. This is therefore a great session, and lasts some 150 minutes.
ARUNA-Ji has some superb accompaniment from J.Vaidyanathan and R.Madhavan. VAIDYANATHAN is simply OUTSTANDING.
In their concession to their diffidence in conversing with ARUNA-Ji, the Baithak organisers have engaged Sri, Ganesh Kumar as an interlocutor. I am generally allergic to such intermediaries, as they obstruct the flow and offer unwanted elucidation. Well.
I found AS to be a brilliant communicator. Her command of verbal expression is impeccable. She is deferential, modest, confident and a great ambassador of CM.
She speaks about how her mother, her other gurus, shaped her music. She explains how from chants to prayers to bhajans to non-stop classes, her life was a great immersion. I did not know T.Brinda spent months on end in their house. T.Balasaraswati, Ameer Khan, Mahalingam, Voleti - there were frequent visitors. She has also learnt Veena from Sri, K.S. Narayanaswamy.
AS confesses how all her devices and artistic sensibilities took some time to come together, and how she found her "zone" only after many years, after singing to sparse audiences in Chennai. She struck upon what type of music works for her and her audiences best. The rest as they say is history.
The usual "we don't understand!" type of Hindustani questions are handled with respect and without conceit. She discusses how she developed her freedom of expression- "I learnt to fly"- after training with an American voice culture expert in Germany,
ARUNA-Ji sings a few snippets extremely beautifully:
1. Tirtha Vitthala
2. Durga chant from Bengal
3. Snatches from her collaboration with an Italian singer
4. How she discovered a wonderful way to begin Kurai Ondrum with a viruttam made up of Kulashekara poetry.
5. Vaishnav Janato she learnt from a minstrel in Rajkot.
Someone suggests she has invented Viruttam. AS dismisses that notion, says how Viruttam and Shloka have a great tradition in CM. She illustrates how she improved her Viruttam over time.
Someone asks about Gamaka. She illustrates with Mohana, Kalyani, and Shankarabharana deftly.
Watch it, Listen to it. We have a great ambassador for CM in Smt. ARUNA Sairam.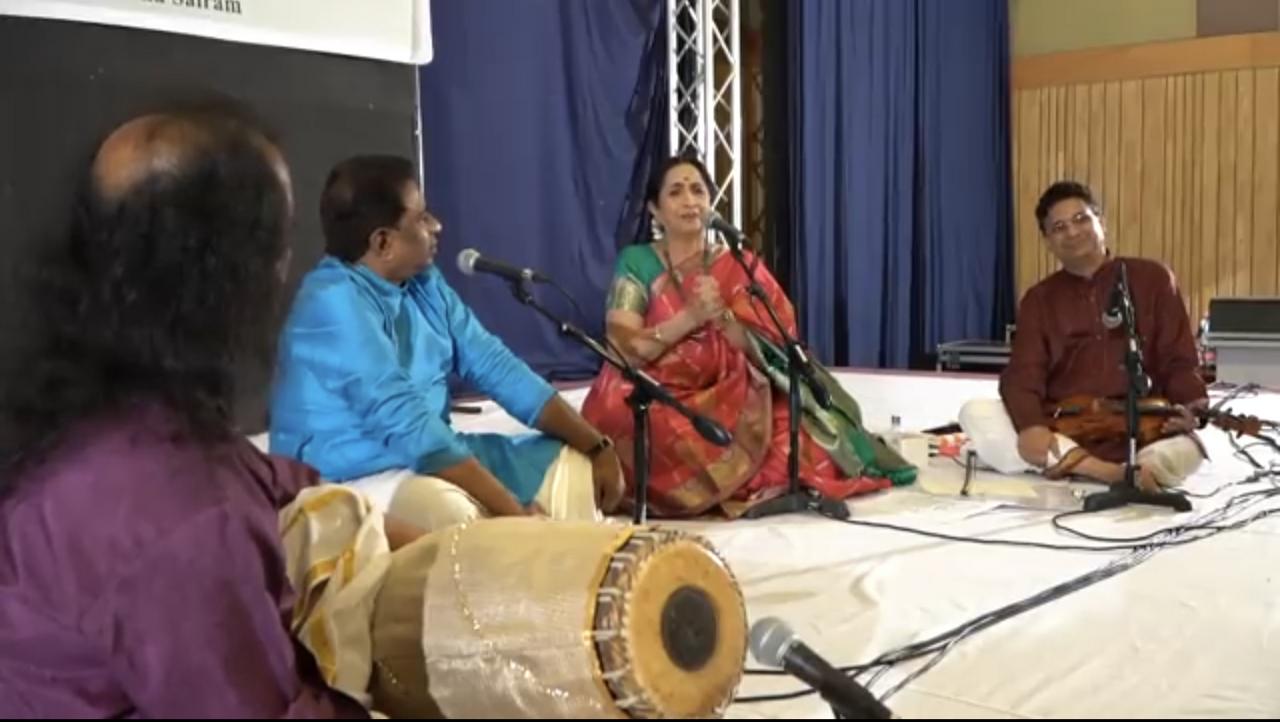 If you click on the image shown above, you will be taken to YouTube.